Service for
arbitration

A trader supplying an arbitrage strategy – arbitrageur – buys an active from one stock and sells it to another at a higher price. Arbitrage has been existing for long and proved itself the most reliable strategy for earning on classic stock and currency markets. Now the great number of crypto currency and stocks puts arbitrage on a different level of dynamics and earning opportunities for private investors. Our service offers you a unique opportunity to take advantage of this situation on the market.

deals
at cryptocurrency market
+ screener for Intra-exchange arbitrage deals
profitable 1-25% arbitrage pairs right now
stocks are already connected to the service

Guaranteed income regardless the market movements
+
Telegram bot with interexchange trades
Telegram bot with interexchange trades
Setting up exchanges directly in the bot: Binance, Bybit, Bittrex, Hitbtc, Poloniex, KuCoin, Gate.io, OKX, Huobi, Exmo
Filters by profit size and maximum amount in trades
The receipt of arbitration trades in your Telegram with a delay of only 2 seconds
The ability to engage in arbitration from a mobile device
A convenient guide to arbitrage trading directly in the bot
Easy connection to the bot in your personal account on the site after subscribing
Available on all tariff plans starting from the "Beginner" tariff
Go to the bot
10

reasons why Arby will help you earn money
Guaranteed income
It doesn't matter if market goes up or down you can always gain with arbitrage deals
The major stocks
We collect data from largest exchanges and provide live information with just a 30 seconds delay.
3 calculation algorithms
The service is adjusted to the most quick arbitrage algorithm by default settings. Also, two more algorithms are available.
Quick result
Every 30 seconds the service gives about 10 inter-exchange arbitrage pairs
Transfer timing
On every arbitrage pair the service shows the potential time of actives' transfers from one stock to another
Price change
For each pair the price change is displayed for half an hour and an hour. This helps to understand the stock exchange climate at the moment.
Reliability evaluation
The service evaluates the market situation and other various factors to help you in choosing the most profitable and reliable deal
Convenient filters
With the help of filters you may tune any settings, enable/disable stock exchanges so that you can find deals tailored to your tasks
Equal loading distribution
With a large number of users online, we distribute stocks and arbitrage pairs keeping a possibility for arbitrage for everyone.
Intra-exchange arbitrage
Ability to make arbitrage transactions in one exchange
Loading...
Plans
*Number of subscriptions is limited ? This is a necessary measure to preserve the possibility of arbitration for everyone.
The cost of a subscription can be rewarded within a few hours
How it works?
Everything for the start at interexchange arbitrage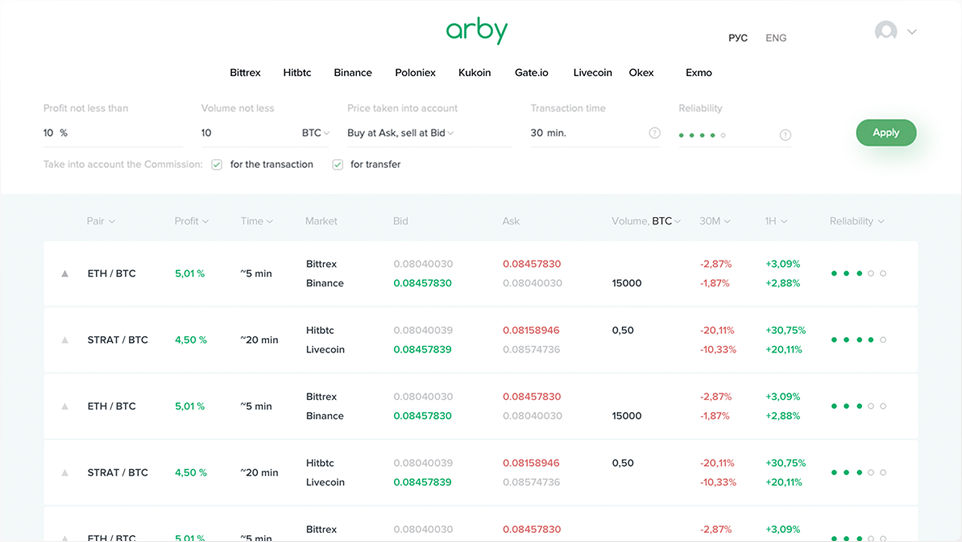 Screener for Intra-exchange arbitrage,deals without transfers between exchanges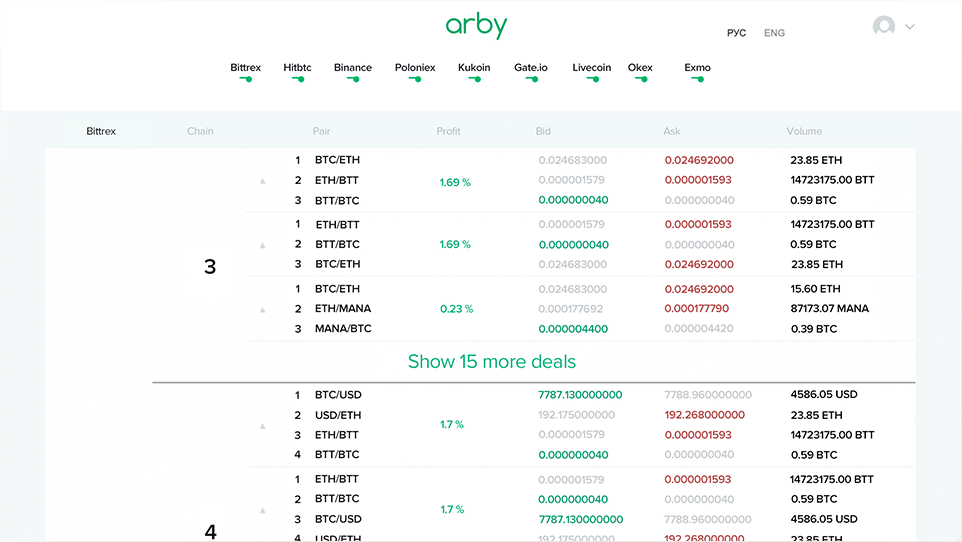 History of interexchange spreads. Interexchange arbitrage without coins transfer.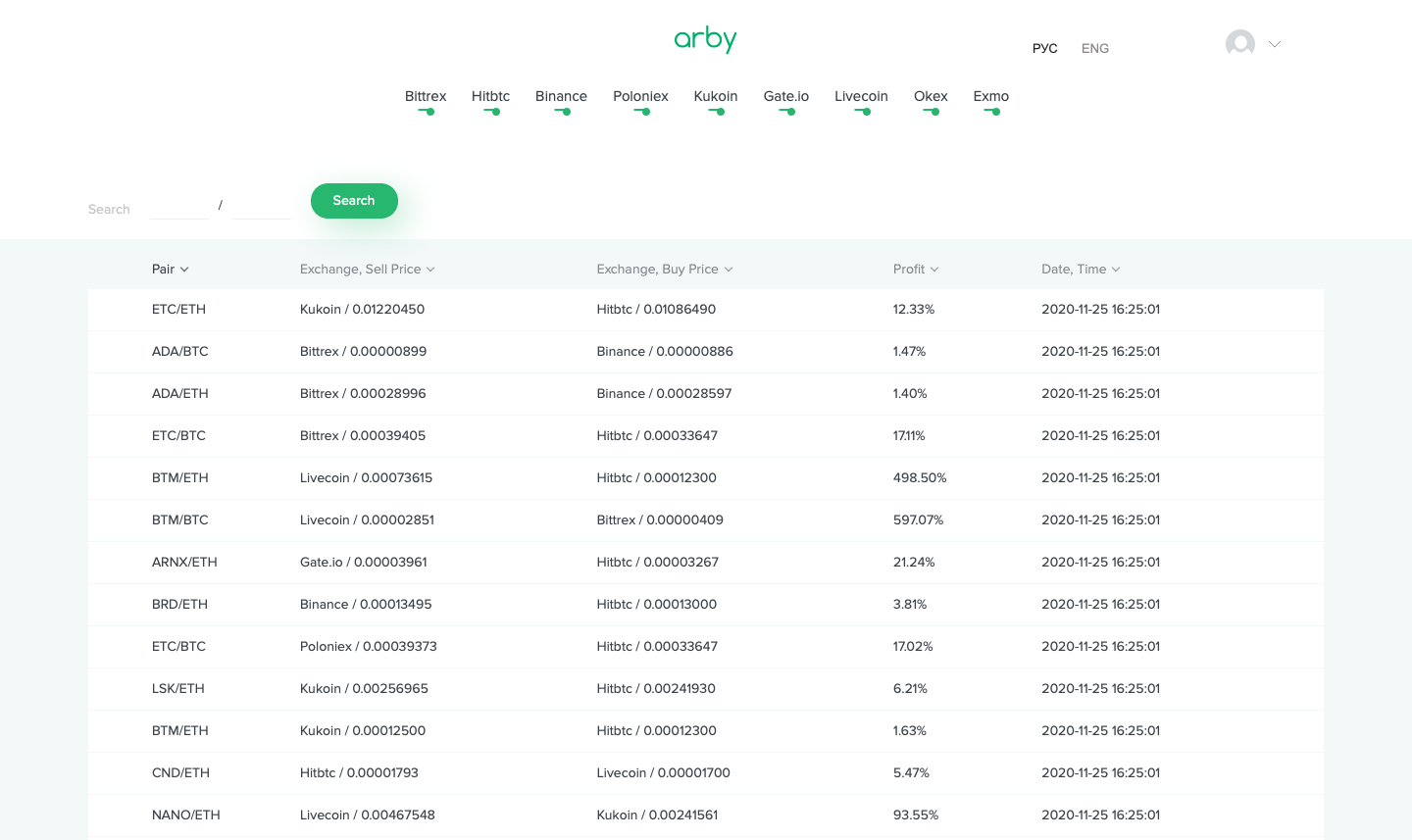 Screener for Intra-exchange arbitrage on BINANCE exchange.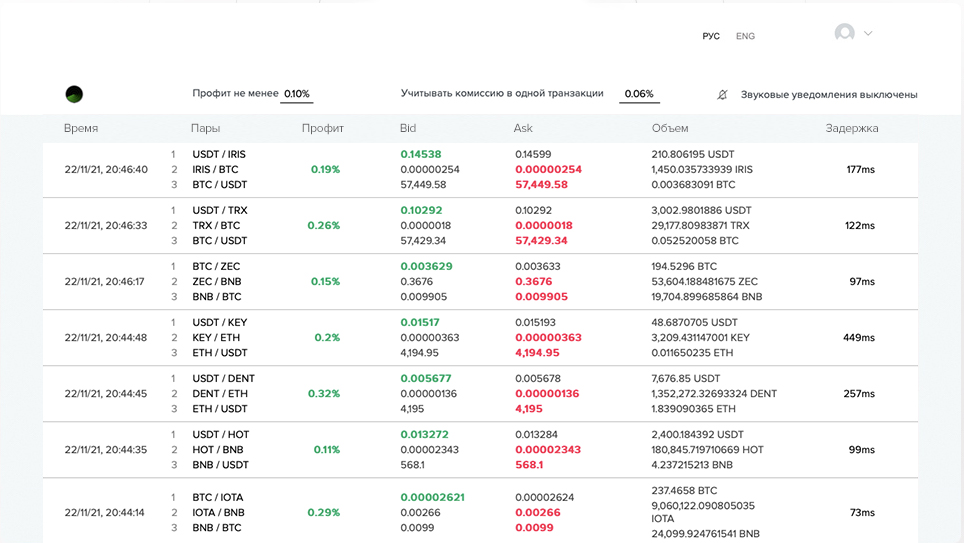 Our partners
Payment systems