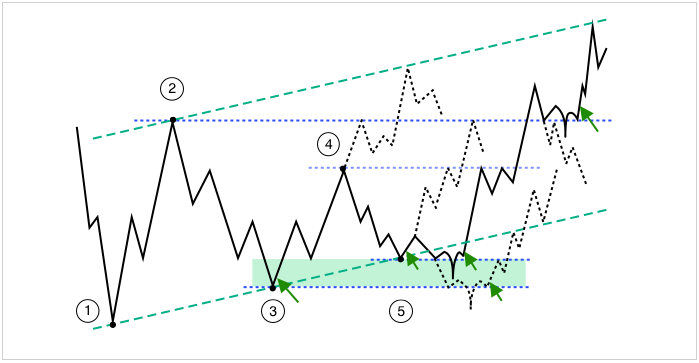 Trend trading is one of the safest trading strategies. Since trades made in the direction of an already formed trend are statistically more likely to have a positive outcome than, for example, countertrend trades.
In the section we analyze the mechanics of market behavior in the formation of trend movements, the formation of inclined and trend channels.

As well as a detailed analysis of 6 options when working out a trend trading strategy:
BOUNCE FROM THE CANDLE WITH EFFORT
THE SECOND REBOUND FROM THE TREND LINE
THE THIRD REBOUND FROM THE TREND LINE
AFTER THE BREAKOUT OF THE TREND LINE
AFTER THE BREAKOUT OF THE SUPPORT ZONE
AFTER RETURNING TO THE TREND CHANNEL

For each variant of the strategy execution, the factors determining a particular situation, methods and entry points into a position, bases and exit points from a stop-loss position, methods and points for determining exit levels from a take-profit position are given. And also, the basic rules for determining the levels of correction.